Friday, June 10th, 2005
---
9:49 pm
i love my dog. honestly more than i would a child.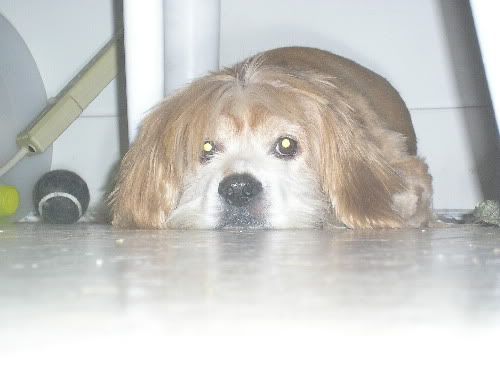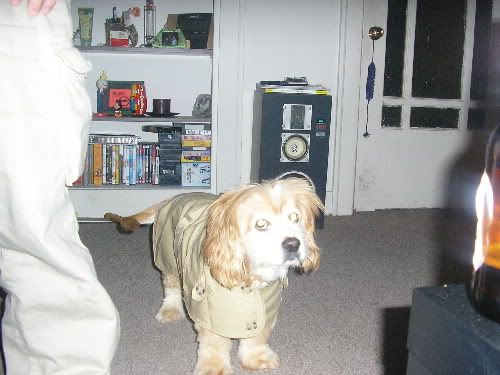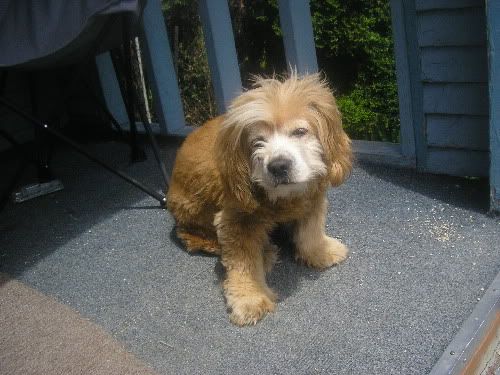 Saturday, April 16th, 2005
---
9:23 pm
smiles:
-the genuine excitement mr puddles has in his eyes after my arrival home.
-walking to work in the early morning hours. it's an unopened carnival and i like to imagine i am wandering through an abandoned carnival in a town that's been dead for years. the street sweepers haven't been in to clean yet, so there's always mud encrusted sno-cone wrappers stuck to the street and other scraps that i step on.
-summer is so close and i'm starting to remember again how beautiful this city can be.
-those conversations that still make me think for days.
-planning summer vacations
-mr puddles mr puddles mr puddles mr puddles


frowns:
-working in the middle of a carnival.
-sick that won't go away
-money
-lack of everything
-lazy
-work home medicine sleep work home medicine sleep work home medicine sleep work home medicine sleep
-bored
-i am that person who talks about their dog. constantly.
Wednesday, October 20th, 2004
---
9:41 pm
- just a thought.
you know, it's nights like these where i am too exhausted to leave my home, there's nothing on tv, i've seen every movie 15 times, and video games just arent doing it for me that i really wish i was 16 again and spending 4 hours chatting with crazies on irc.
Saturday, October 2nd, 2004
---
2:43 pm
i love:
-going to ihop and overhearing someone ask a waitress if popcorn shrimp has popcorn in it.
-giving mr. puddles a bath
-having two days off in a row
-dying my hair the colors of peanut butter and jelly
-being woken up by the phone on a saturday morning
-driving
-care package with the greatest assortment of random things ever
-daydreams
-short term goals
-october
Thursday, September 16th, 2004
---
7:01 pm
-left las vegas at 1pm, arrived in seattle at 5pm.
-hideous sunburn and throbbing ankle?
-there's really nothing like coming home, even if it's 50 degrees and pouring
-god, i missed mr. puddles
-hate my new job
-starving but too lazy to make dinner
-ashling comes saturday. yay!
-too bad all of my money went into a machine that goes 'tinky tink tinky tink whoosh'
-summer's over. fuck.
-first time i've come home to a welcome home sign since i was nine.
Saturday, August 21st, 2004
---
8:49 pm
last night i got my very own first car.
it's an 86 honda accord. it's light blue, doesnt have a cup holder, missing a hub cap, and everytime i turn on the turn signal, my lights go out.
it's fucking perfect.
i like the idea that i can just take off and drive. i definitely plan on doing that soon.
Thursday, August 19th, 2004
---
11:13 pm
-i've been smoking and drinking way too much this summer. i fear it will only increase when i am subjected to the indoors this winter. must stop asap.
-lows, then highs, then lows, then highs, blame this on drinking.
-sarah in one week and two days
-las vegas in twenty five days
-maryland in december
-domestic? or just ease of convenience. we'll see
-mr puddles is getting jealous of anyone who touches me. this is exactly why i wanted a dog.
-remembering my past
Wednesday, August 18th, 2004
---
12:59 am
- what it's about
-empty house, sierra nevada, and megaman at 4am
-driving over that hill near the west seattle bridge exit on a clear night and seeing the city
-mount rainier from my porch at sunset
-impending vacations(!)
-mr. puddles sprawled across the kitchen floor on a hot day and thinking, "my sentiments exactly"
-ah, the wonders of bleach
-unexpected stories
-the growing anticipation of a scrabble game with sarah
-the initial excitement of making new pals
Wednesday, August 11th, 2004
---
2:05 am
extremely brief and condensed update:
-first time having internet in about 3 months. meh.
-moved into fantastic huge house with loving boyfriend
-got the most amazing dog in the entire world who likes to eat, cuddle, and obsessively chew on things. his name is mr. puddles.
-sarah in a few weeks.
-vegas a few weeks after that
-finally learned how to drive
-financially stable (?) and no longer in debt (?)
-generally, been a wonderful summer
Friday, February 13th, 2004
---
9:04 pm
it's 9pm. i have to be out the door at 5am. i havent packed at all. i am completely unprepared. im scared to death to fly, as usual...and for some reason, i'm completely nervous about going home? why on earth am i nervous?
Sunday, January 25th, 2004
---
6:35 pm
dear hamilton:
you and i have a date.
feb-14th-21st

i'll be the one freezing her ass off because she threw out her winter coat when she moved to seattle.

[[IM GOING HOOOOMMMEEE!! EEEEEEEE!!!!!!!!!!!!!!]]
Tuesday, December 30th, 2003
---
12:23 am
dear sarah cairns:
remember all the fun we had? i miss you more than i could even imagine explaining.
when did you disappear from the interweb? come visit me in seattle. i will see you february. please call me :(
Saturday, December 13th, 2003
---
2:00 am
i absolutely love that an old black man bought me a dancing santa at our dodgy karaoke bar tonight.
Monday, December 1st, 2003
---
10:28 am
in about 12 hours, i will be leaving seattle and heading on a plane to washington dc. mike's mother was in a horrible accident and is not going to make it. i refuse to let him go there and deal with that alone. i'm moreso nervous about the flight than anything else. i always freak out when it's time to fly...though i did call ahead and they said it's ok to bring knitting needles on the plane...so i'm just going to knit knit knit and shake and hope the plane doesnt crash. and mike will be waiting for me at the end of the whole ordeal and i will hold him and make it all better for him.
Thursday, November 27th, 2003
---
11:37 am
the last thanksgiving before my mom died, i remember the three of us sitting around a table enjoying a nice dinner. my stepfather was sitting across from me when i kindly asked him to pass me a roll. in the football spirit, he literally passed me a roll. this, for some bizarre reason, infuriated my mother who then proceeded to storm up the stairs, trip, and fall back down the stairs, breaking her wrist along the way. i'm 90% sure i ate the roll on the way to the emergency room.
Saturday, November 22nd, 2003
---
7:02 pm
besides the fact that everyone BLATENTLY LIED to me about the weather out here and it's fucking cold outside, i really enjoy living in seattle.got all the stupid love issues out of the way, have made amazing pals, somewhat financially ok this month. i'm actually looking forward to christmas this year because i am attempting to make all of my presents.
tonight keiko and i are going to see some asian sex in the city play which basically sums up why i love keiko more than eggs benedict on a lazy sunday morning. also, i have decided that all i want in life is to be a housewife. most perfect profession ever.
Tuesday, November 18th, 2003
---
11:34 pm
tonight keiko and i had a date with benny. what a ham that was! ho hohohoho.
Wednesday, November 12th, 2003
---
1:37 am
I AM A MOTHERFUCKING KNITTING MACHINE!
Tuesday, November 4th, 2003
---
7:19 pm
four months ago tomorrow, he kissed me on the forehead for the first time.
tonight, he kissed me on the forehead goodbye

current mood: miserable
Thursday, October 30th, 2003
---
4:09 pm
can you love a person before you are in love with that person if you are in a romantic relationship with that person?